Client report portal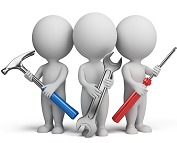 A living service report.
All service events are documented in video, images and text, via this secure web interface. The most recent service visits are displayed on the top of the page, and the service history is displayed in reverse-chronological order below. At the bottom of each report is the inventory of the facility.
Preventative Maintenance
Our preventative maintenance program is designed to ensure optimum equipment readiness and performance. Our custom PM procedures are composed of manufacturers' PM protocols, plus default PM procedures provided by the American Hospital Association publication "Maintenance Management for Medical Equipment."


Repairs
Whenever an equipment custodian or operator call to our attention a piece of medical equipment that is inoperative, we immediately generate a repair or unscheduled maintenance work order. Repair workorders are also generated as a result of preventive maintenance inspections, in cases where a part may need to be replaced to prevent an equipment malfunction in the future.


Calibration
We verify that your medical equipment is not only operational, but operation within the manufacturers' specifications for performance. This involves calibration verification against a known standard. We also provide you with the documentation to satisfy the Environment of Care standards set fourth by the Joint Commission for the Accreditation of Healthcare Organizations, or JCAHO.


Electrical Safety Inspection
Following every Preventive Maintenance or Repair service call, we perform an electrical safety inspection in accordance with the National Fire Protection Association publication NFPA99, which addresses electrical safety in healthcare facilities. Equipment is tested to ensure that leakage current, ground resistance, and polarity are within the guidelines set by NFPA99.